Events
The SCOOP Art Auction 2019
This summer SCOOP is turning 10! So on Sunday the 28th of April in The Iveagh Garden Hotel in Dublin we will be celebrating such a milestone by doing what we do best – running an auction of 100 incredible contemporary artworks and using the money to build a maternity clinic in Sinjar, Iraq – the home of the Yazidis which was left in ruin from the war in Syria.
The collection of artist has to be seen to be believed, featuring works from world renowned artists such as Guggi, Leah Hewson, Duda, Alice Maher, Subset, Maser, Brian Ballard, Morgan, Peter Doyle, Eoin McCormack, Kate Beagan, Anita Groener, Francis Matthews, Kevin Godley, Niamh O'Malley, Jesse Presley Jones, Peter Bradley, Salvatore of Lucan, Margo Banks, Felix Zaska, Ronan McGeough, Jim Fitzpatrick, Aine Macken… the list literally goes on!
Duda, Morgan, Aine Macken and Maser have given to every auction since we started. Absolute legends!
(Full list of artists at the end of the page)
Let's get back to the event itself, and this time round, it's all about the Mammies…
We are raising essential funds to build a maternity clinic in Sinjar in Iraq (home of the Yazidi people), if we can hit our target of €48,000. Any funds over this target are going towards a small school / orphanage outside Qamishlo, Syria. We are also looking at a 2nd smaller maternity clinic in Afrin, Sryia.
We are also dedicating the event to our own Mum – Gaye Sweeney – a nurse for 40 years and who came up with the name SCOOP, and was surely the reason we set up SCOOP in the first place. We remember her being the life and soul of the very 1st SCOOP Art Auction in 2009. She sadly passed away in 2011, but her altruistic nature lives on in us, and we work hard each day to make her proud.
As part of the event a selection of artworks will be on view in the Powerscourt Townhouse on South William St for the month of April.
Then the main exhibition will take place in The Copperhouse Gallery on Synge St, launching on Wednesday eve the 24th of April, and will run on the Wednesday, Thursday and Friday.
Then on Sunday the 28th of April we will have the live auction, with our very own George Gerard Mealy returning to the stand. You can bid online, by telephone or in person at the live auction taking place at the Iveagh Garden Hotel on Harcourt St, Dublin.
Watch this space, our Facebook page or the Facebook event page for more details! This one is going to be special…
The list of artists is absolutely mind blowing too. Here they all are in alphabetical order: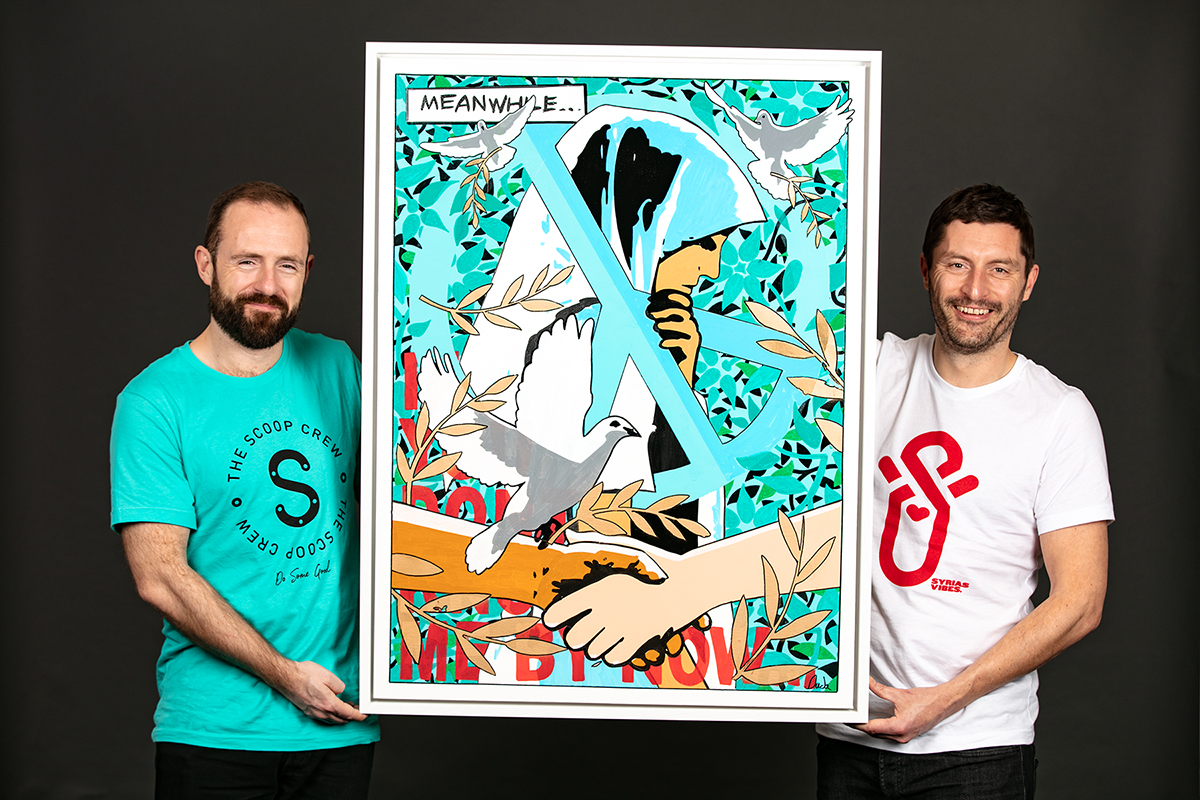 Sunday April 28th 2019
The Iveagh Garden Hotel / Copperhouse Gallery