Events
SCOOP's 10th Birthday Bash / Album Launch
To celebrate turning 10 this year we are throwing the party of the year, taking place on Saturday the 26th of October in the fab new Lost Lane venue on Grafton St.
The night will feature some of our favourite electronic / DJ acts we have been lucky enough to work with the last 10 years, and on the bill so far we have:
DJ Kormac
Le Galaxie (DJ Set)
Dave Nuremberg (Ambulance)
Louis Scully
Lolz (The Gash Collective)
Djackulate (World Freestyle Scratch Champ)
There will be a complimentary drinks reception from Dingle Distillery for anyone in before 9.30pm, which is when Le Galaxie start, so get in early and let's make a proper night of it!
To celebrate turning 10 we are also releasing a limited edition double disc vinyl compilation album, featuring some of the top acts we have worked with in the last 10 years (Le Galaxie, Ships, Zaska, Contour, Barq, The Candidates, Pursued by Dogs to name just a few) and we will launch it on the night.
Early bird tickets are €11 / 13.
Entrance on the night itself will be €15, but if you buy the compilation album on the night for €20 (selling for €25 thereafter) you get in for free!
Funds raised from the night will go towards our Art Therapy Programme and our new IT Programme at the Bajed Kandala camp in Iraq.
Some funds from the vinyl will go towards musical instruments and lessons for those living in Direct Provision just outside Dublin.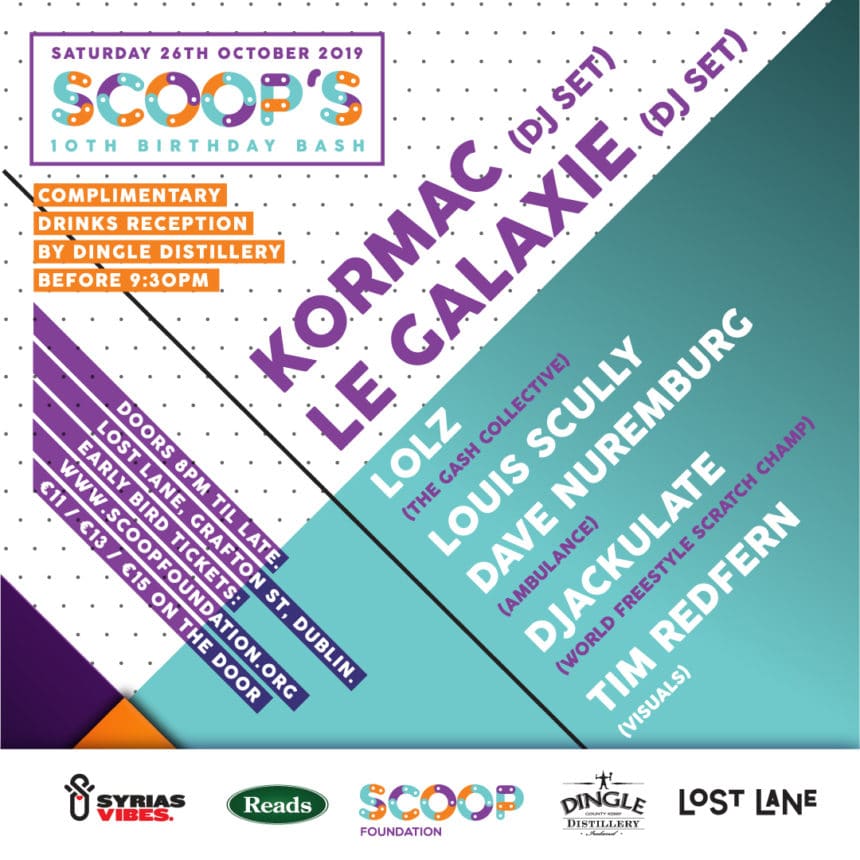 Saturday Oct 26th
Lost Lane